West Shore Meals on Wheels has some special gifts for its recipients from the Fairview Park kitchen, including free holiday meals and a treat from a local business.
The 29 recipients received an early Thanksgiving treat when one of the meals received on Monday came from JJ's Pizza, owned by Lina Duraj and her husband Rimi.
JJ's Pizza has been in Fairview Park for seven years. Duraj said she and her husband love the community.
Duraj donated a meal to Fairview Park's kitchen last year bringing chicken, salad and rolls to Meals on Wheels recipients. This year Duraj is planning on doing the same meal with fried chicken.
"We'll be using our day off to cook the meals and drop them off at the kitchen," Duraj said. "I love doing it, I love being able to do something for the community."
Duraj said she plans on continuing this tradition for as long as she continues to run the store.
"As long as I can afford it I'm going to continue to do it," Duraj said. "I love making other people happy through some small action."
Lynda Kovach, director of West Shore Meals on Wheels, said the donated meals are something unique to the recipients and it shows a sense of community.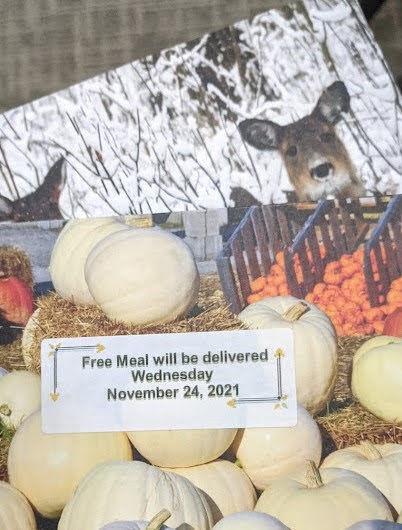 Meals on Wheels is not stopping there, the executive board is also giving meals free of charge for Thanksgiving, a date, not yet set in December and next year's July 4th.
"We were very fortunate this past year with a lot of different individuals and organizations who made donations to us," said Kovach. "Our goal is always to help our recipients."
Kovach said recipients will receive a free lunch and dinner on the designated days. They sent out cards to the recipients to let them know about the free meals.
Meals on Wheels is always accepting donations, monetary or food, but are hoping to receive fresh vegetables, butter, spices or salad dressings currently.
"We can always use whatever we get," Kovach said.
The organization is looking to gain more recipients and is offering meals for $8 for two meals each day, lunch and dinner. Meals on Wheels do not have limitations based on salaries or age.
"We also have a limited number of scholarships for Medicaid qualified individuals," Kovach said. "We're using those as the qualifications for the scholarships but those recipients only have to pay $4 and we match the other $4."
Kovach said they are currently recruiting new board members and volunteers for the kitchen. For more information go to https://www.westshoremow.org/.
Contact this reporter at mmacarthur@westlifenews.com or 440-871-5797.