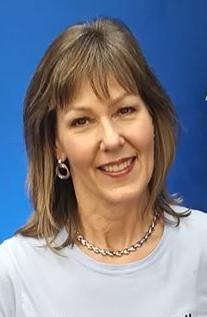 Avon Lake resident, TV host and yoga and fitness teacher Kathryn Eyring is not sure what her next step is after a much-publicized spat with city — much of it played out on social media — over what she calls a possible politically motivated firing. Eyring found out in mid-December that a different teacher was going to be used for her twice-a-week yoga classes at the Old Firehouse.
Eyring spoke out at City Council's Public Service Committee meeting Jan. 27 and the City Council meeting the same day. About a half dozen of Eyring's students attended to support her. Eyring has a public profile in Avon Lake because of her show, "Aging Gracefully," which airs three times a day on Avon Lake's Community Television station (Spectrum Channel 1024). She will continue doing the show.
The situation is a "he-said-she-said," with Eyring saying she was fired and the city saying she essentially quit the classes she taught for two years by not responding in time to a request for renewal paperwork. Eyring contended she was fired over her public support of Councilman Karl "K.C." Zuber, Mayor Greg Zilka's opponent in the Nov. 5 election.
Zilka, who denies the political motivation, said she was not fired and instead quit when she didn't renew her agreement in mid-December. In the past two agreements, Eyring signed them in late December.
Eyring, whose class was called Yoga and Senior Strength and Balance, was notified in a Dec. 16 email from Avon Lake Recreation Director Tim Pinchek that as of Jan. 1, the city no longer would need her fitness instructor services. The city had hired someone else, he said in the email.
"They call it for what they want," Eyring said. "Maybe it's not political, but it's definitely personal. There were no terms for the contract. It's an agreement. The city needs to create a fair policy for contractors. My integrity is at stake. I just find the timing of this very interesting."
In an email Pinchek sent to Eyring on Dec. 11, he had asked her to respond by Dec. 13 about whether she planned on staying on as an instructor, after he said he gave her a second extension. Pinchek mentioned in the email that he had a discussion with Zilka and City Council President Martin O'Donnell about putting instructors in place.
Eyring responded to Pinchek in an email on Dec. 13, telling him she would respond to him by Monday (Dec. 16), as she had been dealing with a sick dog and a death in the family. At noon that day the email saying she was replaced was sent.
Eyring will continue to teach yoga and strength and balance fitness for seniors at the Dwyer Senior Center in Bay Village.
"I couldn't say at this time what my next steps would be in the process," Eyring said. "It was very disappointing that we couldn't come to terms."