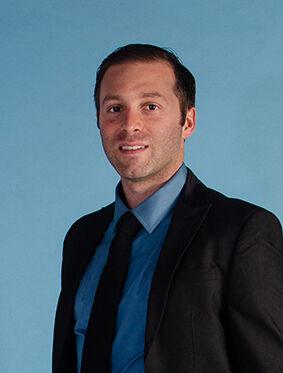 Former Bay Village firefighter Tom Garuccio spent nine years protecting his community. Now, he's doing it a different way — through a blog highlighting small businesses.
The Bay Village resident created his blog "Parkbench: Bay Village" to help offset the pandemic's negative impact on small businesses.
"This is a blog where people can go and find out what's going on in the community," Garuccio, 33, said. "I wanted to uplift the small businesses in the area because if you uplift them, you're uplifting the community."
The blog is part of ParkBench.com, a network of hyper-local neighborhood blogs focusing on news, events and entertainment. While Garuccio lives in Bay Village, his blog covers the entire Westshore. He started the blog last year and covered one business every month. This year, he plans to write about two businesses every week.
Garuccio highlights businesses through videos he makes on a Lumix G9 camera and a Q&A article that people can read while watching the video. On average, it takes him about three hours to research, film and post his blogs, he said.
Typically, Garuccio writes about smaller businesses in the community instead of larger chains like Heinen's. The places he's written about include Thyme Table in Bay Village, Go Buddha Meals in Rocky River and Leigh Roth Photography in Westlake. He's also covered at-home businesses like Toot Sweet Soap Shack in Bay Village.
While Garuccio primarily focuses on interviewing local shop owners, his blog helps in other ways too. People can find coupons for various businesses in the area and a list of businesses still open during the pandemic.
Blogging was not something that Garuccio thought he'd be doing at first. Growing up in Parma, he had his heart set on being a firefighter because his uncle was one for the Westlake Fire Department. In 2007, he went to the Cuyahoga Community College Fire Academy. Soon after he graduated, he moved to South Carolina, where he worked as a firefighter in Myrtle Beach before coming back to Bay Village in 2011.
In Bay, he worked as a firefighter until leaving the department in 2020. Garuccio now works as a real estate agent with his wife, Kortney. Together, they are raising their son Grayson, 4.
Garuccio says the hardest part about managing the blog is finding the time to write posts while also focusing on his day job. Despite that, he enjoys talking to the business owners, he added
While larger businesses weathered the pandemic, smaller businesses were devastated. According to a study done by the University of Santa Cruz, 317,000 small businesses in the U.S. closed permanently between February and September last year.
Garuccio hopes his blog can increase the community's involvement with smaller businesses to make sure that doesn't happen here.
"I want people to understand that these small businesses are your neighbors and your friends," he said. "If I can get their names out there and people make a switch from Target or Walmart to these businesses, then I'm doing my job."