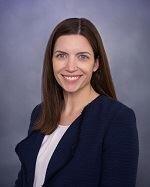 BAY VILLAGE
Bay Village City Council is starting a new search to fill a vacancy left by Councilwoman Sara Byrnes Maier. The search comes as Byrnes Maier fills a vacant at-large council seat left by Nancy Stainbrook's resignation.
Council voted 4-2 to approve Byrnes Maier's appointment Jan. 25. Ward 2 Councilwoman Lydia DeGeorge and Ward 1 Councilman David Tadych voted against her appointment.
"Most of the work I've done so far has impacted the entire city," Byrnes Maier said. "With this new appointment, I will be able to advocate for the entire city regularly."
A Bay Village resident for most of her life, Byrnes Maier began her term as Ward 3 councilwoman in 2018. She has since served on several committees handling infrastructure projects including a new mixed-use overlay, which sets guidelines for mixed-use developments in the city.
Byrnes Maier also works as a senior strategic planner for the Cleveland Metroparks. Her accomplishments include leading an application team that received a $7.95 million federal Transportation Investment Generating Economic Recovery (TIGER) grant for the park's Re-Connecting Cleveland project.
Byrnes Maier's priorities include improving the city's infrastructure and finding new ways to attract businesses to the community, she said.
Council began its search to fill the vacant Ward 3 position last week. Applicants must be a resident living in the ward for at least one year. To apply, send a letter of interest and resume to Joan Kemper at Jkemper@cityofbayvillage.com by Monday.
The term Stainbrook began in 2017 lasts until Dec. 31, and whoever is chosen to succeed her must be elected in November to retain the seat. Council will appoint someone by Feb. 25, said council President Dwight Clark.
Despite Byrnes Maier's credentials, her appointment has caused controversy.
"Sara Byrnes Maier is a qualified person for the job. However, it's disconcerting that with 30 applicants, the one chosen to fill the position was an 'insider,'" said resident Matthew Aaron Diemer. "Now, there is another open spot for Ward 3, and I am concerned this appointment will discourage some people from running and challenging seats."
DeGeorge is concerned that the appointment has delayed several projects, including the mixed-use overlay and a tree ordinance that would limit how trees get removed from private property.
"No matter how you look at it, we've lost ground," she said. "It's going to be business as usual for day-to-day things. However, most major projects we've been working on have been stalled another month because we don't want to move forward without that seventh voice on council."
Council began its search to fill the at-large position after Stainbrook resigned in December. There were 30 applicants and 21 of them interviewed for the seat, including Bay resident Taylor Evans, who wrote a letter to council expressing concerns about the hiring process.
"I am the owner of a business. We regularly interview and hire people for our organization. When an opening arises, we interview people both internally and externally," she says in her letter. "What concerns me is she was given the opportunity to conduct 21 interviews of people that she was vying against for the role, she was allowed in the room to debate the merits of each and ultimately she cast one of the four votes for herself to receive the appointment."
DeGeorge also believes the selection process has issues. She plans to introduce measures to improve the process for filling a vacant seat. While it's unclear what these will look like, she said she will introduce them during the charter review process next year.
Despite these concerns, Clark believes Byrnes Maier was the best person for the job.
"We wanted to find the most skilled and experienced person for the spot..." he said. "Sara's contributions have been extremely impactful during her time on council."
Still, some believe that the appointment was flawed.
"Transparency needs to be at the forefront of government. It was not the case in this process," Diemer said.
Contact this reporter at akamczyc@westlifenews.com or 216-307-6614.