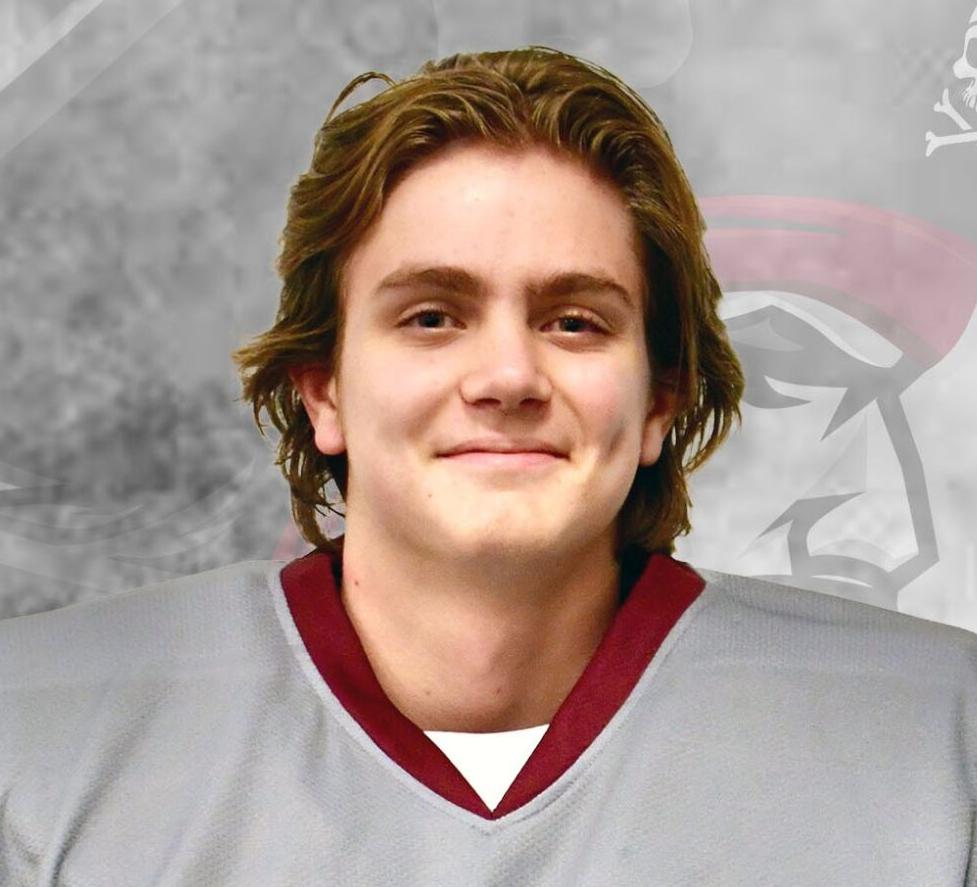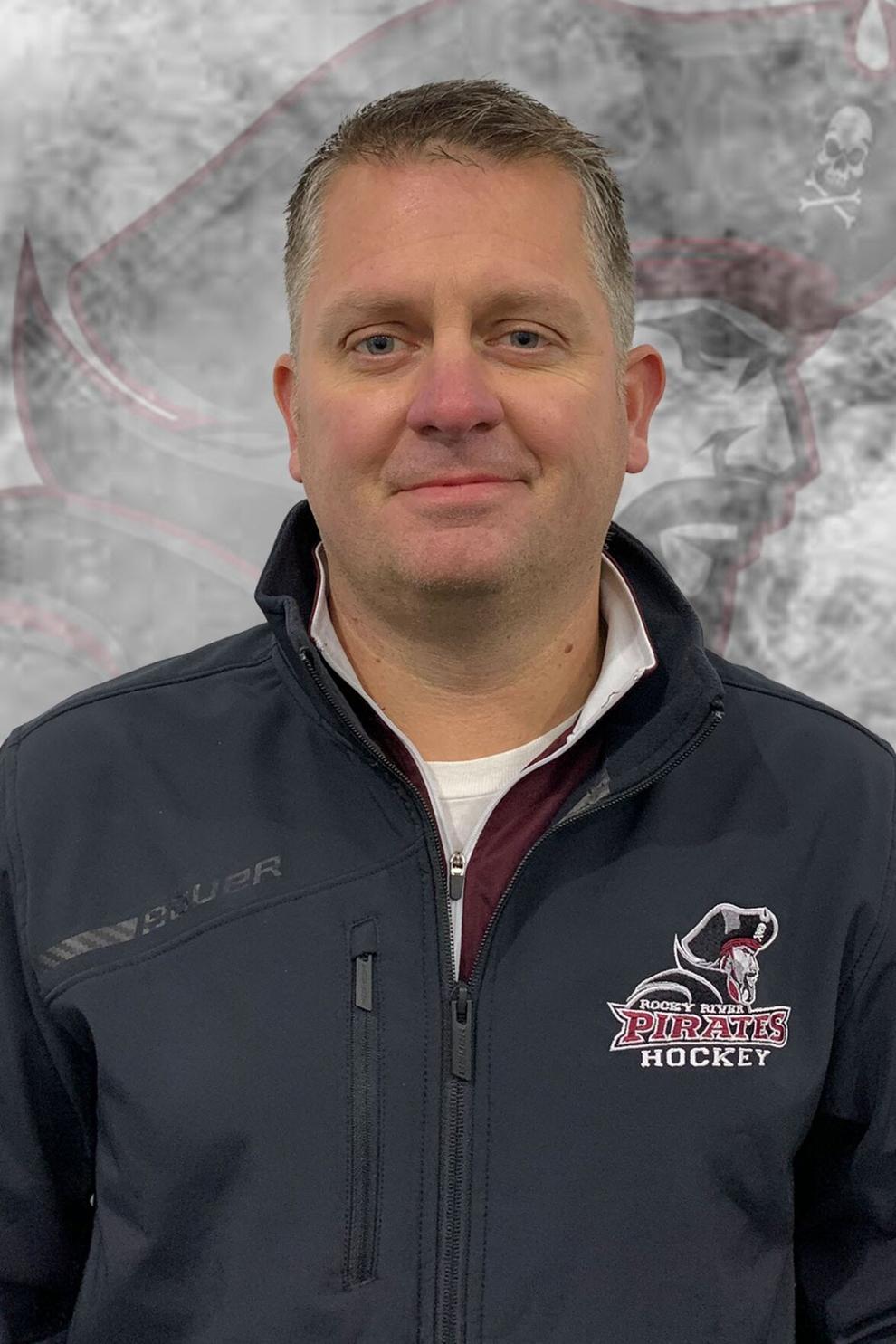 It was at the blue line, standing alongside his teammates, that Christopher Cogan felt emotion well up.
The senior goalie, along with the rest of the Rocky River hockey team, watched as St. Edward was presented with a district championship plaque after a 6-1 loss that was closer than the score indicated.
The Eagles had won the Brooklyn West District at the John M. Coyne Recreation Center in Brooklyn on March 6, and the Pirates, buoyed by a talented 10-man senior class, had to come to grips with the end of their season.
It was in that aftermath that longtime Pirates coach Chris Cogan approached his son and gave him a hug. A state tournament loss is never easy, but the pain fades. The bond between father and son does not. Christopher, like the rest of his teammates, gave everything he had that afternoon.
"My kid's a senior, and I've grown up with those kids," Chris said of his seniors after the game. "It's a tough one for me. They're a great group of kids. I've known them their whole life and then they're gone. It goes fast."
Watching it all from the bleachers stationed above the rink level was Christopher's mom and Chris' wife, Kelli Cogan, who's spent the past 14 years watching Chris, a former Pirates goalie himself during his high school days, helm the program and eventually coach their son, whom he converted to goalie as a sophomore. Seeing the season come to an end was a bittersweet moment for the combination hockey mom and coach's wife.
"I wanted to see both of them succeed," Kelli said. "I think on the ice, you could tell Christopher was emotional. I think there was a lot of that. It was like, I didn't just lose a game, it was also my dad. It was my senior year. I want to make him proud. I'm sure there were a lot of those emotions going on with him as well."
"But (the experience) was amazing for me, just being able to watch the two of them," she said. "Christopher is 6-foot-2 and his dad's 5-foot-9, and just to watch him walk over and hug him, and I'm sure he was like 'I love you'. Imagine that, your coach being able to tell you I love you. You left it all out there and I noticed that and I'm proud of you. There's not a lot of kids that get to experience that (in high school sports)."
The Pirates finished the season with a 17-8-1 record and pulled off a pair of tournament milestones along the way. On Feb. 14, they beat Mentor 3-1 to win the Baron Cup I title. On Feb. 27, they upset defending four-time state champion St. Ignatius, 5-2, in a district semifinal. It was the first time they'd beaten the Wildcats since 2013.
During the regular season, they won 10 games despite two different COVID-19 quarantines–one around Thanksgiving and another around Christmas–and lost five of their first eight games as a lack of available opponents led to a schedule full of state-ranked teams that really tested them. They responded by winning seven of nine, and went into the Baron Cup as a No. 1 seed.
And as good as the senior-laden Pirates were in all facets of the game this year, success wouldn't be possible without Christopher, who spent his childhood playing forward and defenseman before his dad's need for a goalie brought about a position change.
"I was given opportunities to show what I got, so I tried to make the most of it," said Christopher, who recorded 40 saves in the loss to St. Edward, and made a number of crucial stops during the prior win over St. Ignatius.
He had to develop quickly. With Chris' starting goalie graduating and no netminders in the pipeline, internal deliberation brought him to confide in Kelli.
"He said to me, 'I need a goalie, I don't have a goalie coming up'," Kelli said. "And as a coach it was sleepless nights, where you're like, how do I compete, I don't have a JV goalie. He said to me, 'I'm thinking of asking Christopher to go in goal'. I said 'really, he's never played in goal'. And Chris was like, 'Kelly, do you have anyone else in mind?'"
Chris talked to his son and convinced him to commit to a position switch. He was reluctant at first, and initially fought the change. He played sparingly as a junior, learning the nuances of such a difficult position on the ice.
"We were kind of in need of a goalie so I decided I'd give it a try," said Christopher, who plans to attend Bowling Green State University next year. "The hardest part was learning the new movement, because you're not really skating as much. I would say, just being able to train your eyes to see pucks (is hard). At this level shots are way, way faster than they are at the squirt, pee-wee and bantam levels, so you have to adjust to that."
This season, he had no choice but to take on the starting role, ready or not, and performed more like a seasoned veteran.
Perhaps it was in the genes all along. In addition to Chris being a goalie during his playing days, two uncles, R.P. and Tom Morgan, also played the position for St. Ignatius and St. Edward, respectively. Christopher even wore the same number, 30, as Chris, who graduated from Rocky River High School in 1995.
Much like his son, Chris' transition to goalie came out of necessity, though he did start at a younger age.
"I didn't start playing goalie until I was in the second year of pee-wee hockey," Chris said. "Our goalie broke his collarbone, we needed a goalie and I said I'd try it and I never left. It's in the family. It's awesome."
Now that he's seen Christopher develop so rapidly, Chris' lone hockey-related regret is not convincing him to try out the position sooner. On the other hand, goalie is not the most glamorous spot on the ice.
"I could've done it earlier, but I wasn't really thinking about it," Christopher said. "I wanted to score goals, so I started as a player and I was going to finish as a player. Obviously there was a change in path."
After such a successful season, even among such difficult circumstances due to the pandemic, Chris was grateful his goalie decision paid off. More importantly, he was proud of his son.
"If it wasn't for him saying he's going to do it, who knows where we would've been," Chris said.