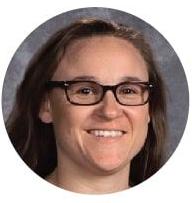 Andrea Petta, who was a four-year varsity athlete in two sports for Lutheran West High School, has returned to her alma mater to lead the women's varsity basketball team.
Petta, who graduated in 2003, had been coach of the Fairview High School women's varsity basketball team since 2015. Last season she led the Warriors to a 17-7 record and earned the Patriot Athletic Conference Coach of the Year Award.
"The past five years coaching at Fairview have been some of the most fulfilling years of my life," Petta said in a statement. "…I am looking forward to coming home to continue the winning tradition of the women's basketball program at Lutheran West."
Petta replaces Trey Senney, who stepped down at the end of last season to focus on his work and family. During Senney's six-season run as head coach, the program earned three straight PAC championships.
As a member of the women's varsity basketball team from 1999-2003, Petta earned two MAC 8 Conference MVP awards, three team MVP awards and two All-District awards. Led by head coach Karen Wittrock, the teams were three-time MAC 8 Conference Champions and three-time Sectional Champions. Petta also played varsity softball for the Longhorns for four years.
"Coach Petta was instrumental in the success of the program during her years playing for Coach Karen Wittrock," Lutheran West Athletic Director Ryan Miller said in a statement. "Her competitiveness as a student-athlete has surely transitioned with her to the coaching ranks."
In addition to coaching, Petta will teach science classes at Lutheran West. She has a bachelor's degree in biology from Baldwin Wallace University and a master's in environmental science and management from Duquesne University.
Contact this reporter at akamczyc@westlifenews.com or 216-307-6614.