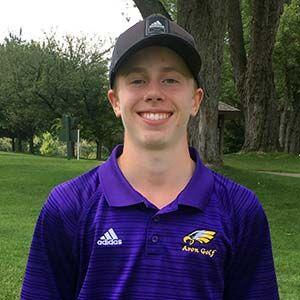 Last summer, Jack Gerborg was taking mental notes of how he could gain an edge on the golf course.
One year later, those notes are paying off in a big way.
Gerborg, who will begin his senior year at Avon High School this fall, is currently ranked sixth out of 167 players in the boys 16-19 age bracket of the Northern Ohio PGA Junior Tour, according to its Jackson, Dieken & Associates Player of the Year Points List. His 819 points, accrued over the course of nine events so far, sit just behind fifth-place Seville's Luke Schreck's 873.75.
As far as what he took away from last summer, Gerborg said he found his best path toward better rounds was through his touch on and around the greens.
"Playing with a lot of the top guys (in Northeast Ohio), if you took me against them, my long game, my drivers and irons, they looked pretty much the same," he said. "I realized it's all short game for me. I worked on my chipping and putting, and it's been all lower scores for me this year so far."
The numbers don't lie. Through nine events dating back to May, he's placed in the top 25 each time. He has four finishes in the top five, including a victory at Wooster Country Club on May 15. He shot a 71 in the 18-hole tournament and was the only golfer to break par at 1-under.
On June 10 and 19, he earned back-to-back runner-up finishes at Avon Oaks Country Club and Plum Brook Country Club in Sandusky. On July 7, he shot a 6-over par 78 to place fifth at the Catawba Island Club in Port Clinton.
Compare that to last summer, where he played in 11 events and finished in the top 10 only twice and was ranked 46th in the same age division. After a successful fall season playing for Avon High's varsity team, he was able to get back out on his home course, Red Tail, this spring with his father, Niklas, and start putting in the practice time to get better.
"Once it got nice out, we were able to go over to the course and play a little bit," Jack said. "My dad and I, we thought of what cost me some strokes last year. We kind of identified that as chipping and putting, then I just worked on that for a while, and it led to better scores."
Playing against stiff competition during the summer months made a big difference for Jack when the high school season started last fall. He helped the Eagles to their second consecutive Southwestern Conference championship, and was named the league's Player of the Year.
"I think (the NOPGA) is a good series of events for the summer," Jack said. "It's at a lot of courses that we play in the high school season, and a lot of the same good competition from high schools (around the area)."
The Eagles won the SWC Preview tournament in August, went 8-0 in dual match play during the regular season, then tied for first with Amherst at the SWC Championship on Sept. 24 to secure the outright title. In the postseason, they advanced as a team to a Division I district tournament at Pine Hills Golf club, but weren't able to send any golfers to state.
With most of the 2020 roster coming back this fall, Jack, who first learned the game at 3-years-old when Niklas would take him to the driving range and then played his first competitive match at 12, is hoping for another strong performance.
"I think it should be a good year," he said. "Everybody's had a full winter and spring and summer to improve and play and practice. When you're our age, hopefully you'll be able to improve throughout the year. We had a really good year last year getting to districts, and I hope we can do that again and maybe sneak into states. I'm excited to get going."
After splitting his time playing a variety of sports growing up, Jack decided to make golf his top priority. It's the only varsity sport he participates in for the Eagles, and one he hopes to continue with at the college level, though he hasn't made a decision yet on where he'd like to go.
For now, he'll continue to work on his game and hunt down that elusive perfect round. He said he loves the struggle involved with trying to tame a course.
"It's probably the hardest sport to master," he said. "You go out there one day and you're hitting every shot how you want to hit it, then you go out there the next day and you're not hitting one shot right. I enjoy practicing, I enjoy trying to shoot for a score and I enjoy competing against other golfers."
Jack will compete in three more Junior Tour events, including its championship later this month. The high school season begins with practices and tryouts on Aug. 2.