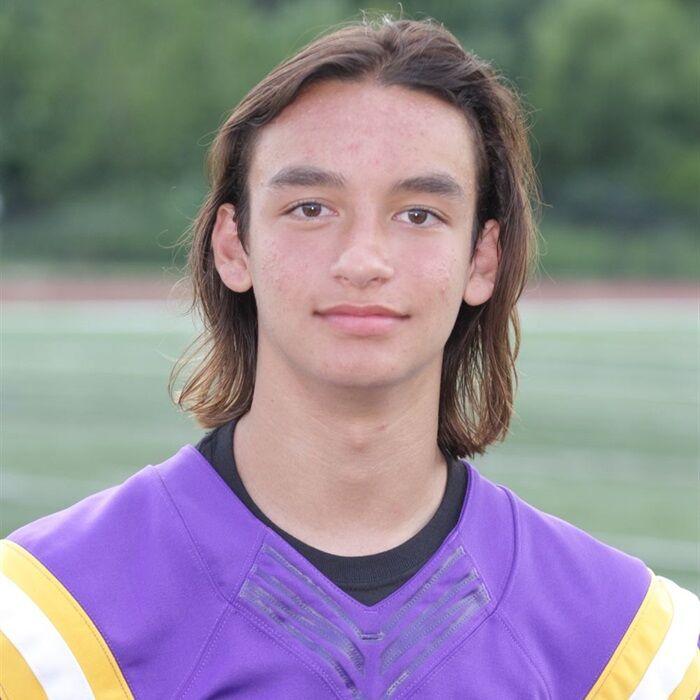 Nathanial Vakos didn't seem tired for a teenager with so many miles traveled in such a short time.
Or one with such a big decision looming.
Rather, the incoming Avon High School senior was enjoying the Fourth of July weekend at home with family, continuing to weigh his options without applying too much pressure to himself.
Vakos, a 6-foot-2, 190-pound kicker and punter for the Eagles varsity football team and one of the top-rated specialists in the country, is a wanted man in the college ranks, and will soon attempt to narrow down where he wants to continue launching footballs off of his powerful right foot.
"I don't have a time in my head," said Vakos, who has one official offer and is patiently waiting for more to come in before making a choice. "When the time is right, once the opportunity comes up, I'm not going to let it go. So I'm just waiting."
June was hectic for Vakos. He visited seven NCAA Division I universities throughout its 30 days, including the likes of Ohio State, Cincinnati, Clemson, Virginia Tech and Mississippi State.
When not taking in campus visits, he was kicking in national, invitation-only camps. To put it mildly, he'd spent most of the month on the road.
"It's been crazy," Vakos said. "I think I was home not even five days in the entire month. I went to seven schools and did a private workout at each one."
It's at those elite camps that he's truly made a name for himself over the past two years. He's attended multiple Kohl's Professional camps, where kickers, punters and snappers go to get noticed by colleges and improve their recruitment rankings. According to Kohl's, he's the 19th-ranked kicker and 11th-ranked punter in the country.
There's also the Hammer Kicking Academy's Top 40 camp, held in Orlando. Vakos attended the camp – so named because the top 40 kickers, punters and snappers in the country are invited – from June 23-27, and not only had his kicks charted, but also competed in a tournament-style competition. He eventually won the field goal kicking bracket with a 57-yard bomb through the uprights and was named the camp champion.
He was named to the camp's "Super 7", awarded to the top seven performers. In the five-year history of the camp, every single athlete to make that group has received a NCAA Division I offer.
"Everybody in that Super 7 has gotten full scholarships," Vakos said.
At the Chris Sailer kicking camp, held in Las Vegas in May, Vakos was the Class of 2022 field goal charting champion and a field goal and punting competition finalist.
"Nathanial is an outstanding high school kicking and punting prospect," Chris Sailer said in his review of Vakos, posted to www.chrissailerkicking.com after the May camp. "He is a great looking athlete with one of the strongest legs in America. Nathanial does a great job on field goals. He gets the ball up well and easily has 55+ yard range. His kickoffs are strong. He drives the ball 70+ yards with solid hang time. Nathaniel is also a talented punter. He shows that he can hit a D1 level ball. Look for him to continue to develop in this area. Nathaniel has all the tools to dominate the next level...He is a pleasure to work with. Strong prospect. OFFER NOW!!!"
Booting accurate field goal tries from long distance is becoming a routine for Vakos. Videos he posts to his Twitter account show him hitting from as far as 63 yards away. When not attending camps, he can usually be found at the high school field, aided by holder and recently-graduated teammate Arlind Bengu, formerly the area's top high school punter and an incoming Louisiana Tech University freshman.
"Arlind's my best friend," Vakos said. "We've hung out and gone to the field almost every day."
During the shortened COVID-19 season of 2020, Vakos and Bengu gave the Eagles a duo of specialists that few teams in the state could match. While Bengu's punts routinely saddled opponents with poor field position, Vakos developed a knack for converting clutch kicks. It culminated in the Division II, Region 6 championship game Nov. 6 at home, where his 30-yard shot with time expiring lifted the Eagles to a 20-17 victory over Avon Lake.
And football wasn't even his first sport of choice. He grew up playing soccer and was convinced he wanted to continue with it at the college level, but was introduced to the football program before the start of his freshman year and quickly found a home on the gridiron.
"In eighth grade, my club soccer coach went up to the head varsity football coach (Mike Elder) and said, hey, you need to check this guy out, he can kick a soccer ball pretty far, I think he can help out your team," Vakos said. "I started kicking in front of the guys and the coaches liked it for how small I was at the time. After that I started practicing with the varsity kicker, then did extra points and field goals freshman and sophomore year, then did kickoffs junior year, and now I'll be doing everything this year."
He's played both sports ever since, and will wrap up his soccer career with the Eagles this fall. On the pitch, he's a returning All-Southwestern Conference Second Teamer for the defending league champions.
"I'm going to play my last high school year with my friends and hopefully do well," he said of the upcoming soccer season.
Then there's the football team, which has reached the Div. II state final four each of the last four years.
"I'm looking forward to this season," he said. "I just want to be done with the recruiting process before it starts in August. Then I won't have to worry about finding a home. I'll just be set in stone and do my best my senior year...Expectations for us are to get to the final four, which we've done four years in a row, and try to win a championship. We'll see how it goes."