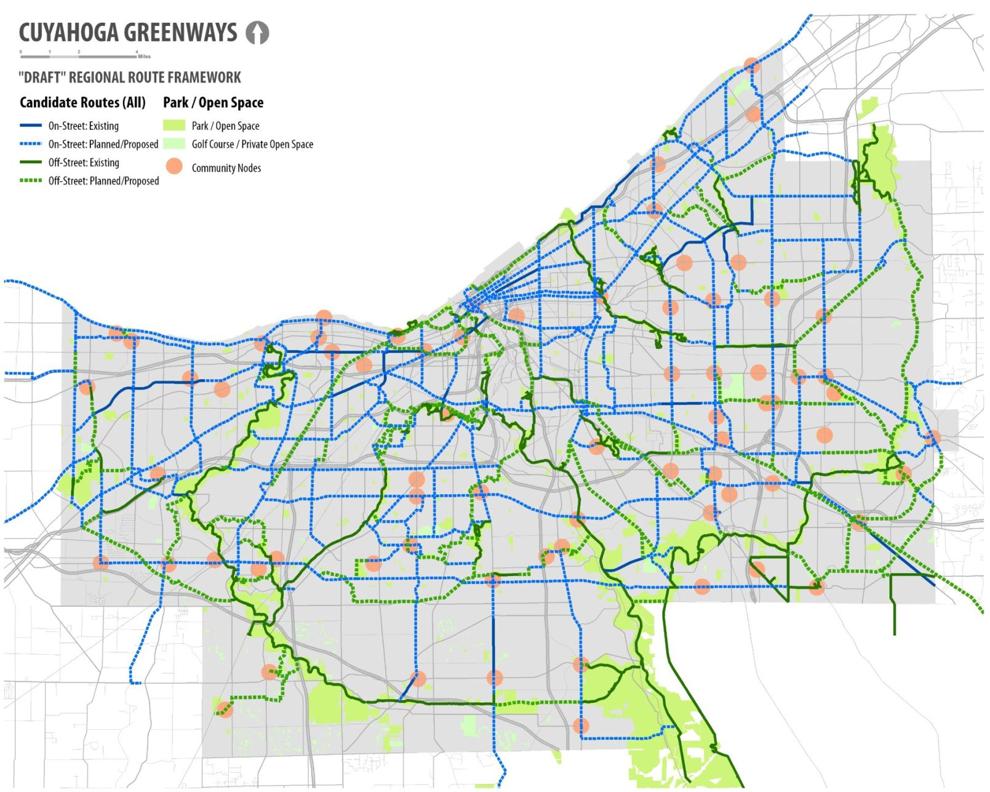 FAIRVIEW PARK - A network of multipurpose paths, park trails and bike lanes linking the entire county has been proposed, including connecting the Westshore to the Cleveland Metropark's Emerald Necklace and downtown Cleveland.
Such a vision is being formed in a project called Cuyahoga Greenways, a joint effort of the Cuyahoga County Planning Commission, the Cleveland Metroparks and the Northeast Ohio Areawide Coordinating Agency.
The project's goal to link neighborhoods, parks and public transportation with greenways and urban trails was discussed Thursday at a public meeting at the Gemini Center in Fairview Park.
"It's really this idea of trying to expand and update the network of greenways and trail that exist across the county," explained Oliver Kiley, a landscape architect with SmithGroupJJR, a consultant on the project.

The proposed network would build onregional routes, such as pathways in the Cleveland Metroparks and major roadways. Newer arteries are being considered by planners working on the project.
On the Westshore, a proposed route would connect the dedicated bike path that runs along Interstate-480 between Great Northern Boulevard and Stearns Road with the Cleveland Metroparks' Rocky River Reservation. Other paths would be placed on or along major arteries, such as Lake and Crocker roads.
Planners are midway through developing a master plan, which is due this summer, Kiley said. NOACA provided half of the $300,000 to develop that plan; Cuyahoga County Planning Commission, the Cleveland Metroparks, Bike Cleveland and a few municipalities provided the rest.
But no timeline has been set for completing the network. Two or three decades may pass before all gaps in major existing routes are filled, Kiley said. A century may pass before all the new routes envisioned in the master plan are created, he added.
That the network is in its embryonic stages was evident during the question-and-answer part of Thursday's meeting, one of three public meetings last week in Cuyahoga County on the project. Will the network offer bike rentals? Who will be responsible for maintaining the trails? What will the policy be on dog walking? Kiley acknowledged the project has not yet reached the stage of making decisions on any of those issues.
The 50 to 60 people who attended the meeting seemed to favor more trails but also appeared to recognize the financial and logistic obstacles the long-term project must overcome.
Planners will avoid seeking private property for new trails, Kiley said, and instead place routes along public rights-of-way, as well as utility and unused railroad corridors.
Candidate routes will be evaluated on several factors, including nearby population density, economic impact and ecological factors. Residents can visit two interactive online maps that show current drafts of the proposed network at arcg.is/0vLDD9 and arcg.is/1PH9T8.
"We've taken a lot of the input that we've been hearing from everybody, and we've developed sort of a first cut or first pass at a potential network of greenway routes," Kiley said. "Our next couple of steps are going in and actually refining that plan, looking at how we take this big vision that identifies hundreds of miles of potential new trail and greenway, and prioritize that into projects that will really have a big impact."
Because Cuyahoga Greenways today is merely a project of several area public agencies, it has no budget of its own, said Glenn Coyne, the county planning commission's executive director. Once the master plan is completed, who implements it and how will have to be decided, he said.
The network will likely be built piecemeal, sections at a time, with funding from a variety of sources, Coyne said, unless a large grant is obtained that makes a more rapid implementation possible.
Shawn Leininger, Fairview Park's development director and a member of Cuyahoga Greenways' steering committee, said the project promises better connections among area communities.
"It gives us other opportunities for biking and walking other than our streets," Leininger said.