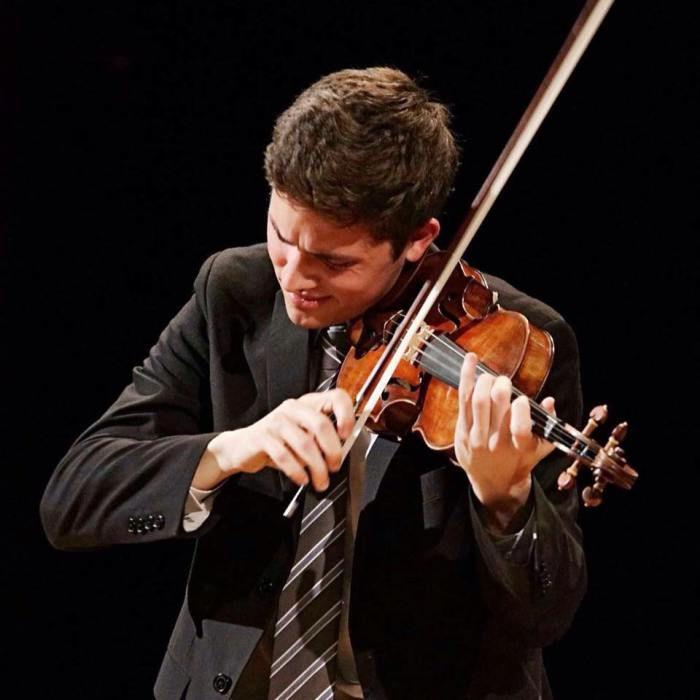 WESTLAKE - Cleveland State University music Professor Victor Liva remembers specifically the first time he heard Stephen Tavani play the violin.
"I was walking to my office one afternoon following a rehearsal, and I heard this fabulous violin playing coming from one of the practice rooms," recalled Liva, who runs CSU's graduate music program. "I followed the sound, because I was curious who it was."
Tavani had recently married one of Liva's graduate bass students, Amanda Johnson Tavani.
Liva obviously liked what he heard. Tavani will be the soloist when Liva brings his Cleveland Philharmonic Orchestra to the Westlake Schools Performing Arts Center Saturday night for a concert.
Tavani, 26, will perform Mozart's Violin Concerto No. 5, often called "the Turkish Concerto."
"It was in vogue in Austria at the time to have some sort of 'exotic' influence in music, and someone decided at some point that section of the piece sounded 'Turkish,' and the nickname stuck," Tavani explained. "You cannot miss this section as it is in such stark contrast to the very 'proper' sounding minuet-style music surrounding it, so I would encourage audience members to listen for it."
Tavani began playing the violin two months before his 8th birthday. The need for braces prevented him from pursuing his first choice, the trumpet.
"I am sure glad I chose to play violin, as I fell in love with it," said Tavani, who received a Bachelor of Music degree from the Colburn Conservatory in Los Angeles.
Two years ago, while pursuing an Artist Diploma from the prestigious Curtis Institute of Music in Philadelphia, Tavani was named concertmaster of the 33-member Chamber Orchestra of Philadelphia. He travels to Philadelphia about once a month to play concerts there.
Today, Tavani is enrolled at the Cleveland Institute of Music's Concertmaster Academy program, studying under Cleveland Orchestra concertmaster William Preucil.
Concertmasters must learn a variety of solos, he said, as well as such as deciding what bowings the orchestra will use and providing feedback during rehearsals.
Tavani said he likes the role of concertmaster because it allows one to do a little bit of everything.
"My ultimate goals in classical music are to bring glory to God with my playing, and share some of the most beautiful music ever written with the people I play for," Tavani said. He'd also like to be the concertmaster of a major symphony orchestra someday while also performing as a soloist and chamber musician.
In addition to Mozart's Violin Concerto No. 5, Saturday's concert will feature Copeland's Outdoor Overture and Dvorak's Symphony No. 8.
Liva, who has been the Cleveland Philharmonic Orchestra's music director since 2007, said the latter piece has a jubilant and celebratory feel because the outer movements are triumphant. "Dvorak was at his height of prowess as a composer when he composed the symphony," he said.
Founded in 1938 as a training ground for those seeking to play with prominent orchestras, the Cleveland Philharmonic's mission today is to presents symphonic music at modest ticket prices.
Saturday's concert, which closes the ensemble's 80th season, begins at 7:30 p.m. Tickets cost $15 for adults, $10 for seniors 60 and older and students 22 and younger, and can be ordered online at www.clevephil.org. The Westlake Schools Performing Arts Center is located at 27803 Hilliard Blvd.